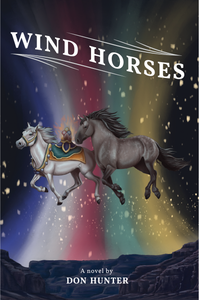 Wind Horses Collection
Wind Horses
Regular price
$0.00
$0.00
Unit price
per
FREE GIFT: Every book purchase comes with a free set of Wind Horses Prayer Flags. The instructions for obtaining your free gift are located in the back of the books themselves. Use links below for purchase - do NOT check out on our website for this product.

Rusty, a young cowboy, has given his word to ramrod a cattle drive across 1000 miles of wild frontier.  A gang of savage outlaws led by two godless killers are hellbent to end the drive with Rusty's gruesome death.  Frank and Slade, two middle eastern brothers, grew up poor and destitute and live by an oath to use any means necessary to get rich and stay rich.  They will stop and nothing to get the cattle and kill the crew, including Rusty's beloved Mandy.  Rusty must dig deep into a forgotten past to find the will and wisdom to keep him and the others alive.  Loving missionary parents posted in Tibet raised him to become a good man.  But will that be enough?  
Rusty, Frank and Slade were lured to America by a love of horses, the wild west, and a desire to become cowboys.  They think, fight, laugh, and love, from a wellspring of starkly different wells.  Guided by echoes of very different pasts, these very different cowboys lock horns in a life-or-death struggle that rumbles them across the frontier headlong into the maw of the unimagined.  On the sacred land of the Little Bighorn all worlds collide—the Plains Indians will sing of it for generations.
A novel by Don Hunter (Founder of Wind Horses Collection) 
---