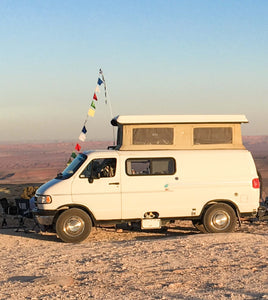 Flying the Horses – Hanging Your Prayer Flags  I'm often asked how to hang Wind Horses Prayer Flags.  In reverence to the Eastern connections to our flag design we adopted Eastern directions.  When hanging them from a high point the blue flag should be on top.  And when hanging horizontally the blue flag should be to the left.  Outside flags are meant to slowly tatter as the wind carries forth prayers and good wishes atop the Wind Horses. Very tattered flags should be replaced with newer ones.  Old flags should be burned.  At my home I like to fly them...
---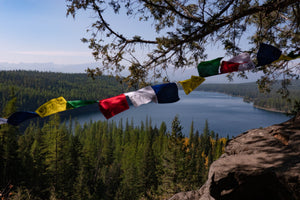 What do elephant figurines, bamboo, butterflies, and prayer flags have in common?  They are gifts that are auspicious to receive.  When someone gifts one of these to you, it means they really care.  They also make a special place or special occasion auspicious.  Please consider sending a set of Wind Horses Prayer Flags to someone you care about.    Fly the Horses or gift them, and please consider posting your Wind Horses Prayer Flags or mandalas on your own feed with #flyingthehorses and be sure to tag @windhorsescollection     
---
For thousands of years colors and shapes have influenced cultures and individuals.  Colors trigger emotions that trigger reactions from the palate of body chemicals.  Some colors soothe and calm, others evoke energy and vitality, and so forth across the rainbow spectrum.  Shapes also have the power to induce specific thoughts or feelings.  The Hindu and Buddhist cultures used the interplay between shape and color to express many elements of their faith traditions.  From them, we get the vibrant prayer flag made of five different colored flags.  Each color represents a different basic element: yellow-earth; green-water; red-fire; white-air, wind; blue-sky.  When...
---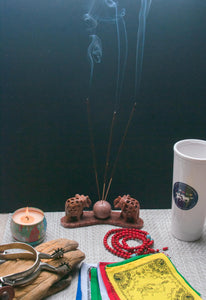 Like horses, east and west share many connections to wind.  The first comes from the pure physical aspect of wind as the mover of air currents around the planet.  Wind creates weather, soil, and quite literally sculpts the diverse environments that sustain life.  Wind is uniquely global, unseen, and free to all.  Go outside, take a deep breath and imagine who breathed the same air just a few weeks ago on the other side of the world.    From the dawn of time, the power of the wind has not gone unnoticed.  In virtually all cultures and faiths, wind...
---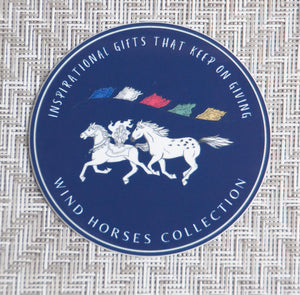 Something About Horses…   I'm often ask about the two horses depicted on Wind Horses Prayer Flags.  In searching for a way to make prayer flags more relevant to western cultures I researched the common threads between east and west.  Surprisingly, there are many: art, color, flags, giving, paths of spirit, and the power of wind and horse.  Of all the animal kingdom, the horse most helped humans transform the world.  Its east-west backstory connection began with the origin of the horse 40 million years ago at what is now the American west.  It thrived, migrated eastward to the Asian...