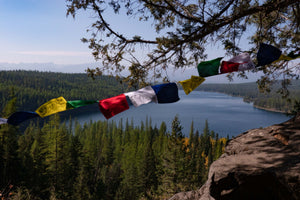 With a new year comes the shedding of last year's woes and worries as thoughts turn to new days ahead.  But with the pandemic still unabated and other of life's normal fears our mind-space can get fogged with no clear path ahead.  A wonderful way to hit life's reset button is to move thoughts and actions from self.  Ego and fear melt away in the light of sincere care for others.  Give.  A smile, a helping hand, an encouraging word, a gift.  Giving brings a smile to the giver and given.  It works.  Try it. Should you choose to gift...
---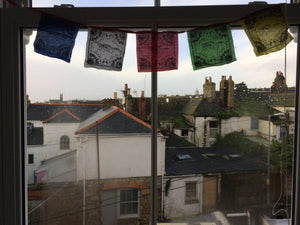 Warmest greetings in 2022.  Many look to the new year with hope and renewed spirit. This year, it seems especially apt to celebrate the namesake of January, the Greek god Janus.  A god of new beginnings, and a god of duality, having two faces that could see behind and ahead.  Unlike Janus, we cannot see the world behind and ahead simultaneously.  Each person must choose to look backward or look forward and choose what we see in either direction.    The Wind Horses team sends sincerest best wishes that you see in the year ahead a time of wonder and...
---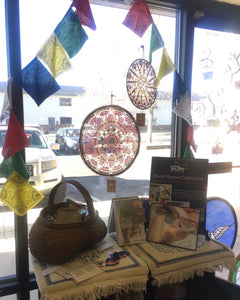 Wishing a wonder-filled Christmas and New Year to all.  Thanks to you Wind Horses Collection got off to a successful start this fall.  Your support and encouragement energize us to continue our venture into the world of e-commerce.  We can't wait to share with you several new inspirational products coming in 2022—stay tuned.    Please visit Sanderosa Art Gallery in Laporte and enjoy the amazing creations of local artists, including Wind Horses Collection (picture).   Fly the Horses or gift them, and please consider posting your Wind Horses Prayer Flags or mandalas on your own feed with #flyingthehorses and be...
---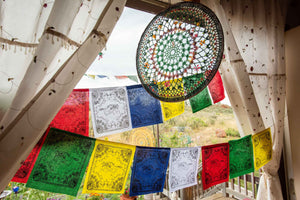 Holiday celebrations are upon us.  For many traditions it is a time that includes gift giving.  Everyone likes to find and give that perfect gift, an item especially suited to the person.  But unique gifts can be hard to find.  Please consider gifting from the Wind Horses Collection.  Our prayer flags and mandalas are sure to bring a smile and sure to be unique, as all our products are handmade.  A lot of love goes into each flag, each mandala.  We ship quickly and offer a holiday discount: enter GIFT20 at checkout.   Fly the Horses or gift them, and...
---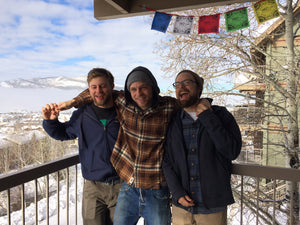 Thanksgiving and Beyond Thanksgiving brings into focus one day each year individual gratitude.  Gratitude comes from the Latin word gratia which means grace, thanks, favor.   Gratitude lifts the human spirit and recharges the wellspring of goodness in each of us.   Phycologists have known for some time that gratitude and happiness are strongly connected.  A thankful heart is a happy heart.  The common greeting "Happy Thanksgiving" acknowledges an ageless connection.  Wind Horses Collection  wishes everyone great blessings on this special day and invites you to "Fly the Horses" so that you can see every day throughout the year your prayers and...